Dawson Sheet Pile Capping System
The Dawson capping system provides a fast economical method of supporting shuttering for capping beams on permanent sheet piling works.
It can be used on both U- and Z-piles.
See the page Duo Capping System too
Steel Support brackets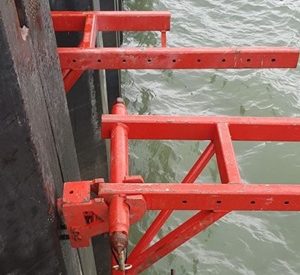 Mounted System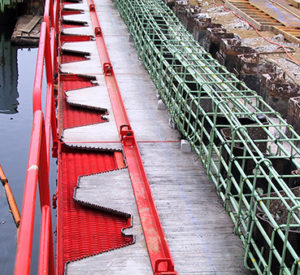 System
The system consists of:
A number of steel support brackets to be fastened between the sheet piles by bolts with hard points screwed into the sides of each "U" formed part of the sheet pile wall  (pile pan).

Soffit Panels (mats) with a large number of rectangular bars retained within a framework. The bars are free to slide and intended for being pushed towards the wall of sheet piles or continuous bored piles.
Medium Duty Support Brackets (MDBS) for mounting – if needed – on the "flat side" of sheet piles for support of the steel support brackets.
MDBS fastened by the eccentric
Installation
Steel Support Brackets are fastened one by one in in the correct level in every outside pile pan by jacking bolts with hard points screwed into the sides of each "U" formed part of the sheet pile wall.
In case fastening to the "flat side" of a sheet pile or to a pipe is necessary, a Medium Duty Support Bracket (MDSB) is used to support the Support Bracket.

The levelling bolts mounted in the lower end of the support brackets are adjusted to  make the two upper bars horisontal.
A number of Soffit Panels (mats) are placed on top of the support brackets.
The panels are bolted together and Back Stops mounted.
The rectangular bars are pushed towards the sheet pile wall, starting from the deepest part of each pile.

The bars are treated with Mould Oil to minimize any adhesion from the concrete.

Advantages
Support Brackets and Panels are easily assembled and re-used by unskilled workers.
Renders obsolete the use of both individual plywood panels cut to match pile pans, and the welding and subsequent removing of support brackets to piles.
Quick set up.
Standard Panel for all normal pile caps and many abnormal ones as well.
Re-usable for all shapes of sheet pile.


Production
Fifty brackets complete with shuttering can be secured in one day. It represents approximately 50 m of pile capping.
On completion of pile capping the Panels and Suport Brackets are quickly removed from under the concrete, ready for further use.

6 hours after grouting the Soffit Panels and Redebs are ready to be stripped.
For U-sheet piles the jacking bolts with hard points are screwed into the sheet pile locks, provided sufficient space between the sheet piles is available. For Z-sheet piles the flat part is used.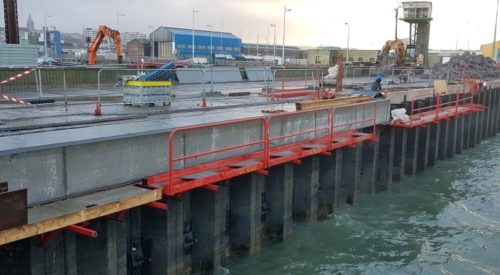 Video: Sheet Pile Capping System